Split from this post!
C'mon Kiwi! Even I can do sculpt slings! Heheheh... seriously, I think you can do it. This is how I did a couple back in 2003... and I REALLY had no idea what I was doing!
What you need:
- Green Stuff (duh!)
- Pin Vice... you need one to pin models, and since your skills are growing exponentially, I suggest you get one. They are cheap, ~$5. Unless you get GW's which is $15.

- Staples... That is what I use for pinning. Sure you can get brass rods (the BEST!), but for little models (not critical pieces) I still use staples. They are small, thin and strong (metal) and ULTRA cheap (free!)
- For sling bullets you could make GS balls or use little sand-rocks.
OPTIONAL: Metal or plastic balls... like for a BB Gun. They are CHEAP (~$5) and plentiful (the counts are in the THOUSANDS!) Y
Process:
* Take the hand you want the sling (preferable with a weapon or something) and clip the excess (blade?) so you leave a handle.
* DRILL the handle, and make a PIN.
* Glue the staple, but rather than making the PIN small, leave it a little long... it will help you support the sling!
* While that dries (should not take long), make couple of green stuff ribbons. Their width should NOT be much wider than the BB Gun ball.
* Put the BB Gun ball and fold the ribbon (making a "U").
* Attach the long parts to your PIN.
DONE!!!
Alternatively, you could buy ($8.95)... depending how many you need.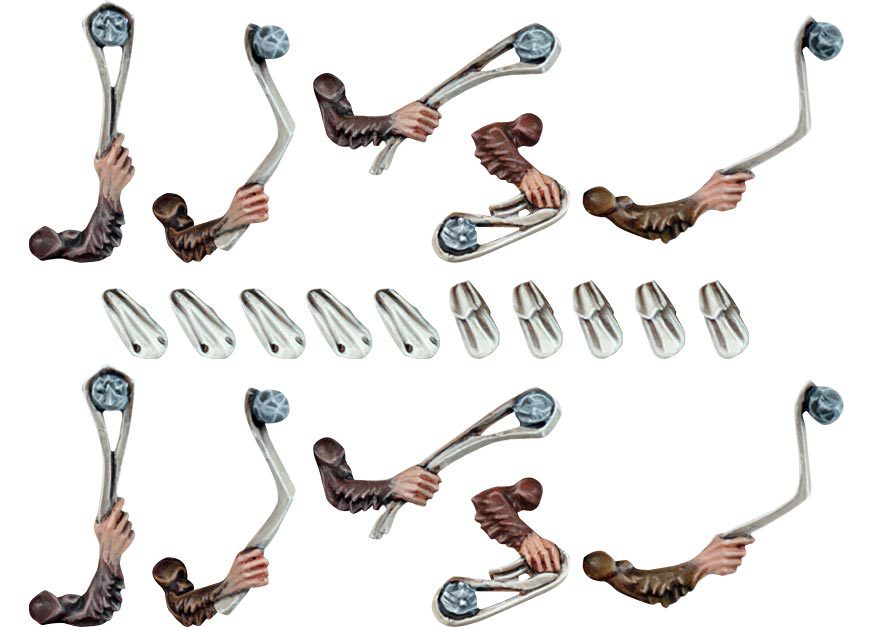 _________________
.
The Mordheimer
- Death Squads' Chief Editor & Ninja Designer.
Bursting with ARACHAS' Dev-Powah™!
Can't wait until someone invents a time machine so I can go to the specific day in the past that I volunteered for this, so I can kick my own ass.
Support Bacteria; it is the ONLY culture some people have!
Since I ask "What do you think?" to all Staff, I have included it here to save time.
DoZer
Mordheimer
Justice NEEDS to be Served! Maybe 3rd Degree burns will teach you not to Tom Sawyer me to work!
.