Game 7: Varangians (IG) vs Savlar Chem Dogs (IG) vs Lokian Ice Guard (IG) (Training Ground - Skirmish)
Game 8: Imperial Renegades (Angels of Change - Name to Change soon) vs Eldar (Chance Encounter)
Game 9: Imperial Renegades vs Varangians (game incomplete - to be finished next week with pics - Valkyrie Down Scenario)
Game 7 (Sorry no pics for this battle, or battle report - It wasn't my fight!) Fluff and Result only


Ice Guard Squad Pics...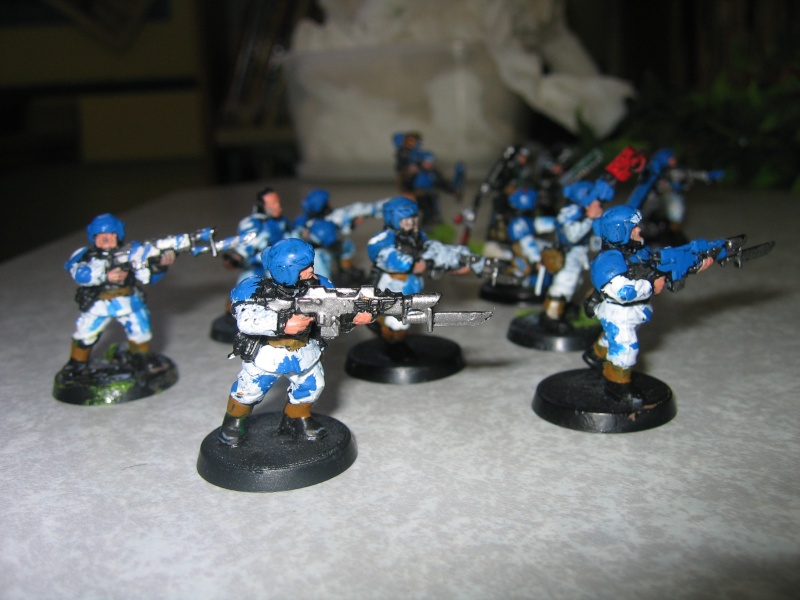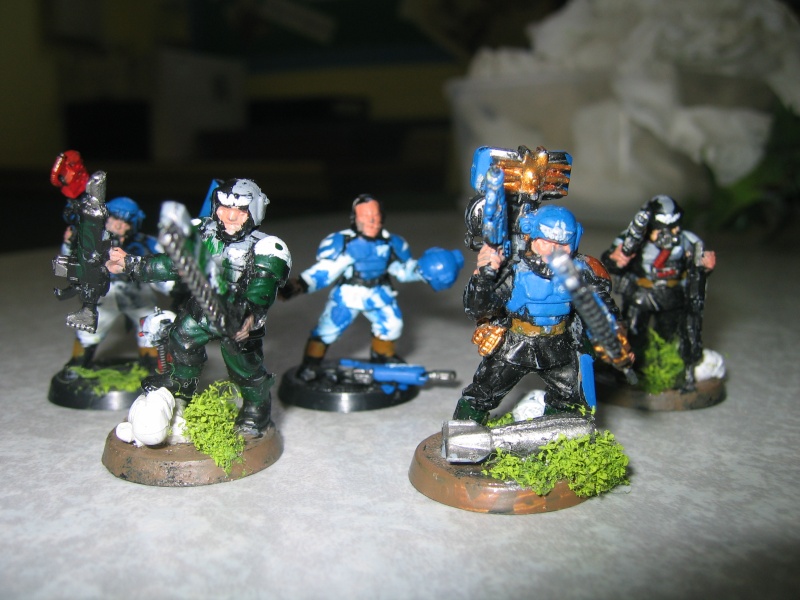 Inquisitorial (CODED) CommuniqueOnline: Inquisitor Felix Nemeia (Ordo Xenos), Inquisitor Ferrulus Arclight (Ordo Hereticus)
Nemeia
- I have a wager for you Ferrulus. What say you to setting your Ice Guard against my Varangians? It would benefit both forces to practice against hardened opponents.
Arclight
- My Ice Guard are more than capable of taking on the cowards of the disgraced 10th, even if Reismann leads them now. Why not throw those rabid chem dogs of yours into the combat too, so you can even the fight!
Nemeia
- Fine, though I think you'll find them a tougher proposition than you think.
Arclight
- I doubt that very much. So the stake shall be the same as usual then Felix?
Nemeia
- As always Ferrulus, one Throne (cogitiator edit: One standard credit piece within Imperium space) for whoever's squad is victor. Full battle equipment, live rounds.
Arclight
- You have yourself a wager... Now what do you know about this new Renegade Commander, intelligence suggests it may be Tiberius Simmersen and that there is potential support from within the Varangian Administratum...
Remainder of the conversation remains classified (Continuing Cogitator Encryption - 3546AOCFN98 M41
)
Battle Result:
Varangian Win, Ice Guard Lost (Ice Guard Withdrawn from Campaign - New IG Squad built), Chem Dog Lost
Game 8 Foolish Gambit
South Eastern Sector 34: Derelict Industrial Complex
Colonel Tiberius 'Angelus' Simmersen looked up from the corpse of the peasant, which had been target practice for his Renegades. A traitor to the cause he had said to them as the young man had pleaded his innocence. He died clawing at his throat as a well aimed shot from the autogun one of his workers punctured the man windpipe, just above the heart. Simmersen had no idea which worker had taken the shot (they all looked the same to him, scrawny creatures all desperate to impress), though they did seem to be improving. The peasant had, of course, been truly innnocent, but Simmersen enjoyed these little games, another pawn to progress his purpose.
'Eldar spotted taking up positions to the east, sir' said Hakeswill, his barbed tail swishing back and forth in agitation. 'Spotters on the roof suggest it's the same squad we encountered before, same armour markings. They have a psyker with them, my
friend
can feel them.'
Simmersen looked at his Sergeant disgustedly, what a necessary twist of flesh he had become. Hakeswill's friend was the demon that possessed his body, providing strength in return for eventual corruption beyond even the Inquisition's ability to redeem.
'Can't have the Eldar sneaking up on us again, let's show the xeno, where the true power lies on this planet!'
Poor positioning and a hail of fire from the Eldar lasguns, took out three renegades, almost forcing a rout on turn 1!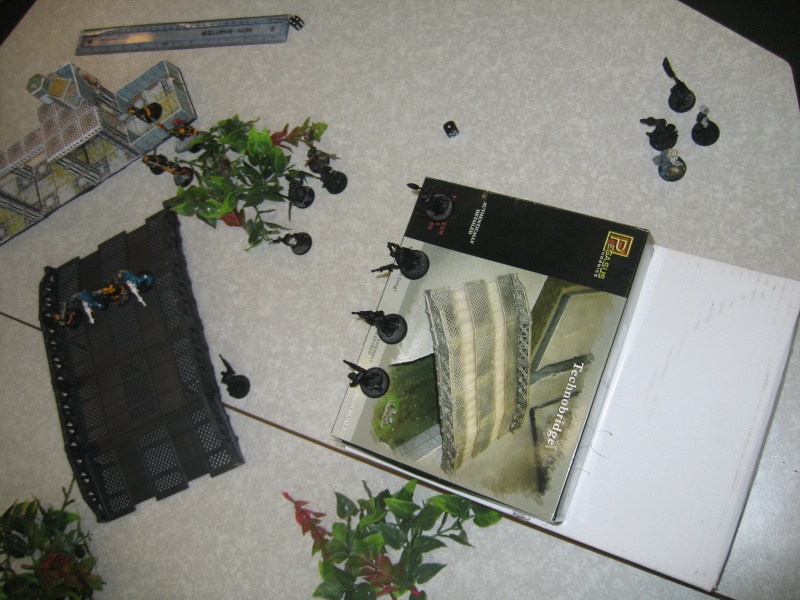 Return fire from the renegades mortar redressed the balance, along with steady fire from Hakeswill and Simmersen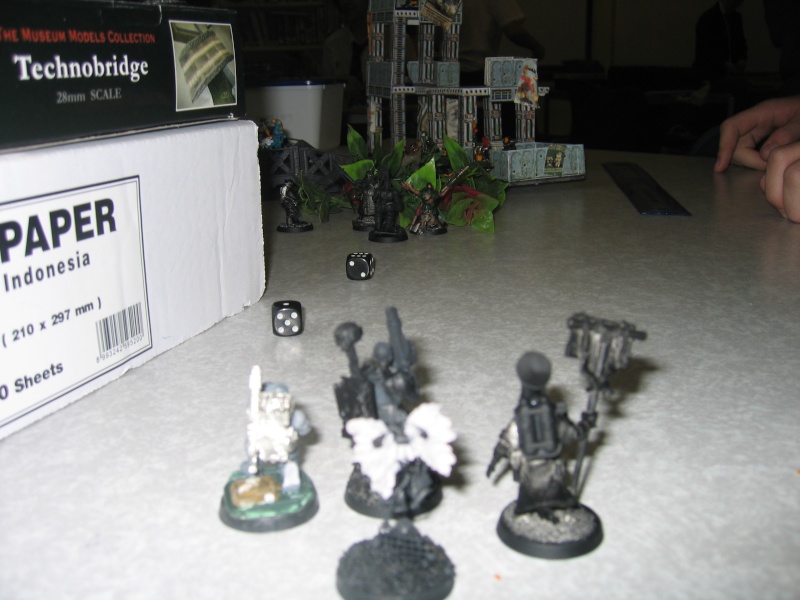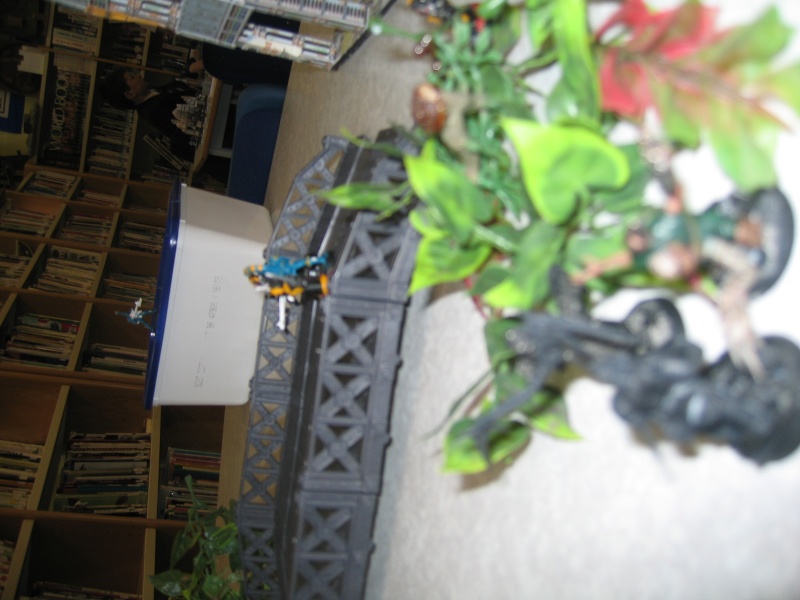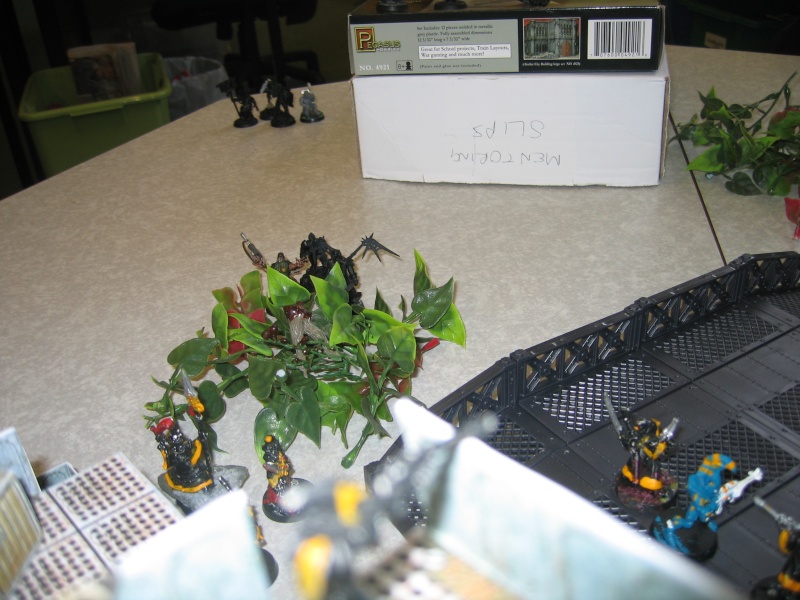 Close combat ensued with the Exarch and Simmersen and between Hakeswill and the Warlock - the results finally forcing the Renegades rout
Tiberius 'Angelus' Simmersen turned and ran, not caring if what remained of his squad saw the undignified scramble for safety. The exarch was wounded, but his squad lacked the resolve to stay in the battle - someone would pay for this indignity!
Apologies for the dodgy scenery (other groups had already nabbed all the best stuff before we started!) - More pics to follow

Cheers Laney